Your consultation begins with a detailed case history including details of your current problem, any old injuries or problems and your past medical history. We also find out about your current health and medication After a full osteopathic examination, we discuss your problem, diagnosis and our proposed  treatment with you. Most initial consultations include some treatment unless you do not wish treatment or treatment is not appropriate before further investigation or referral. We may refer you to your GP, for an X-ray or other clinical investigations, if necessary.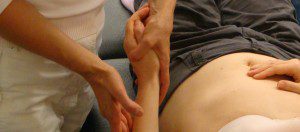 Your treatment may include deep tissue massage, joint mobilisation, articulations and manipulation, cranial osteopathy, postural advice and prescription of exercises to maintain flexibility, movement and strength. This depends on what you have tried in the past (if anything), what has worked, what hasn't and what seems best for the current issues you have.
If you wish to have a chaperone present during treatment, please let us know. We are unable to provide a chaperone at this time due to the COVID-19 pandemic.
As all osteopaths have our own specialities and work differently, the type and style of treatment given may vary from other osteopathic treatment you may have had elsewhere. Occasionally, patients are a little 'achy' or tired after treatment for 12 – 36 hours. This usually eases gradually.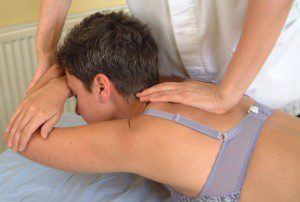 The number of treatments depends on how long the problem has been there and how bad it is. Two or three treatments may be sufficient to sort out some complaints. Other conditions may require a long term treatment plan and regular maintenance. We think it best to treat recent injuries as soon as possible.
Cranial Osteopathy may be used alongside other types of osteopathic treatment. There are some patients who specifically seek this approach. Please do ask us if you have any questions about this approach and if  it may be suitable for you.
For more information, please click on the cranial osteopathy, osteopathy for children and osteopathy in pregnancy links
PHOTOBIOMODULATION and LOW LEVEL LASER THERAPY
The application of light over injuries to stimulate healing is called Photobiomodulation (PBM) and Low Level Laser Therapy. It is similar to ultrasound but can be more effective in some cases. It helps to resolve inflammation, heal tissues and ease pain. PBM / Laser Therapy aids the healing of conditions such as achilles tendinitis, hamstring strains, tennis elbow, disc injuries, knee, shoulder and neck pain and we often use it in our treatment.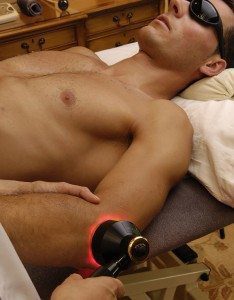 Many of the world's elite athletes and top football clubs use laser therapy to speed their recovery. There is more published clinical and physiological evidence supporting the use of laser therapy for soft tissue injuries and joint conditions than any electrotherapy modality traditionally used by physiotherapists or other manual therapists. Research experts consider it to be the safest electrotherapy available.
There are over 300 randomised, double blind, placebo controlled clinical trials showing its  effectiveness across a range of inflammatory, pain and musculoskeletal conditions. Other clinical trials demonstrate effectiveness of Laser Therapy on tissue repair and wound healing. Recently, papers have been published in the Lancet, Pain, Nature journals. To read more, click here.
To watch a video of treatment with Laser Therapy for neck pain, click here
NATUROPATHY
Naturopathy is a system of natural healthcare using nutritional therapy, stress management and natural remedies to help treat symptoms and causes of ill-health. I am a qualified naturopath. Naturopathic practitioners choose 'natural' therapies with little side effects.  We try not to suppress symptoms, but find natural ways to help the body overcome symptoms so it can heal itself, as we believe that your health is affected by physical, mental, emotional, genetic, environmental and social factors and consider this when tailoring treatment to each patient. We seek to identify and treat the causes of condition, rather than its symptoms, then try to educate patients to look after their long term health and well being.
I discuss and advise on healthy eating programmes and have a particular  interest in patients with fibromyalgia as well as discussing weight loss from a naturopathic perspective.
If you want to know more about any treatment, please ask us by phone or email.