Low Level Laser Therapy (LLLT) / Photobiomodulation Therapy
Photobiomodulation and low level laser therapy stimulus circulation, improves tissue repair, reduces pain and inflammation by the application of red and near infra-red light over injuries or lesions. First developed in 1967, it is now commonly referred to as LLLT, Laser Therapy or photobiomodulation therapy (PBMT).
Photobiomodulation and Laser therapy has been used for many years on sports injuries, arthritic joints, neuropathic pain syndromes, back and neck pain. PBMT is 54 years old in 2021. Approximately 700 randomised, controlled clinical trials have been published with no significant adverse effects reported. Many systematic reviews and professional guidelines now recommend PBMT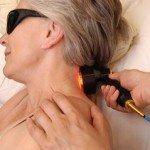 Treatments with Photobiomodulation / Laser Therapy take up to 10 minutes typically and may be applied two or more times a week in acute situations or weekly in less acute conditions alongside conventional osteopathic treatment in strains, sprains, inflammation and chronic pain. At Amersham Osteopathic Clinic, photobiomodulation / laser therapy is used to help speed up healing / repair and reduce the need for anti-inflammatories which slow down the tissue repair process.
Others using PBM / LLLT include the British and US military, Premier Division soccer teams, Olympic teams, Formula 1, rugby and cricket team therapists, specialist pain clinics, physicians, physiotherapists, osteopaths and chiropractors in the UK and USA and around the world.
The effects of PBM / LLLT are photochemical (like photosynthesis in plants). When the correct intensity and treatment times are used, red and near infrared light reduces oxidative stress and increases ATP. This improves cell metabolism and reduces inflammation. When pain relief / analgesia is required, there is a different type of treatment with a different mechanism of action used. PBM works predominately on a protein in mitochondria (cytochrome c oxidase) to increase ATP and reduce oxidative stress. A cascade of mitochondrial and intracellular downstream effects lead to improved tissue repair and reduced inflammation
PBM and LLLT is popularly used for soft tissue injuries, joint conditions, neuropathic pain, non-healing leg and pressure ulcers. The intensity of LLLT lasers and LED's is not high, like a surgical laser. There is no direct heating effect.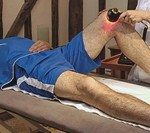 In the last 12 years, many systematic reviews have found in favour of LLLT / PBM: 
A BMJ Open (2019) systematic review and meta-analysis found PBM / LLLT was effective for knee arthritis with overall, pain and disability were significantly reduced by PBM / LLLT compared with placebo at the end of therapy click here as did a TMJ systematic review here
BMJ LLLT for chronic non-specific low back pain: a systematic review and meta-analysis of randomised controlled trials found "moderate quality of evidence" and "clinically important benefits" in the short term. (2016) Click here
BMJ Sports Medicine Journal, a systematic review of surgical and conservative interventions for frozen shoulder found "strong evidence" for LLLT. (2010) Click here
The International Association for the Study of Pain (Global Task force on musculoskeletal pain) found "strong evidence" for Low Level Laser Therapy on myofascial pain syndrome. (2010) Click here and to be of benefit for temporomandibular myofascial pain (2018) (click here)
LLLT / PBM has been found to be "an effective, safe, and well-tolerated treatment for fibromyalgia" in a 2019 systematic review and meta-analysis (here)
A 2015 systematic review found for PBM / LLLT in shoulder tendinopathy (here) and in 2020, evidence for various tendinopathies (here). American Physical Therapy Association guidelines recommend LLLT for Achilles tendonitis (2010). Click here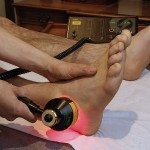 The Lancet systematic review: "LLLT reduces pain immediately after treatment in acute neck pain and up to 22 weeks after completion of treatment in patients with chronic neck pain". (2009) Click here
World Health Organisation (Bone and Joint Task Force) for neck pain Low Level Laser Therapy "more effective than no treatment, sham, or alternative interventions" (2008) Click here
In August 2010 The Lancet reported that the systematic review of LLLT for neck pain was in their top 20 most downloaded papers for 2010.
There is also evidence to support the use of Laser Therapy in aiding fracture / bone  healing click here, here and here for some research on this.
NICE (National Institute of Clinical Excellence recommends Photobiomodulation therapy for oral mucositis (an extremely common side effect of cancer therapy) click here: NICE , and a recent systematic review (2020) of Safety and Efficacy of Photobiomodulation therapy in Oncology found significant and growing literature indicates that PBMT is safe and effective, and may even offer a benefit in patient overall survival (Cancer / Oncology)
There is exciting emerging evidence for PBM / LLLT effects on traumatic brain injury (TBI) click here . A 2020 RCT on TBI stated "Transcranial near-infrared low-level light therapy (LLLT) administered after traumatic brain injury (TBI) confers a neuroprotective response"  and found PBM / LLLT had a demonstrable effect on the brain, "trans-cranial LLLT targets and engages neural substrates that play an integral role in the pathophysiologic effects of moderate TBI" and may affect myelin repair pathways (TBI RCT ); a 2019 systematic review showed benefit of PBMT for depression and stress (here)